The final results do not do justice to the hard work undertaken by the Denis Welch Motorsport team and drivers over the weekend, we must say a big Thank You to everyone who has supported our cars and drivers this season.
GT and Sports Car Cup
Julian Thomas in his low drag E-Type would be the fastest Denis Welch Motorsport prepared car co-driving with Calum Lockie. Thomas made a great start from 7th on the grid and quickly started to chase down the leading AC Cobra, number 194. By lap 12 he was passed and began building a substantial lead before making his mandatory pit stop and handing over to Lockie. A lengthy safety car period and another driver change meant Thomas was back in the driving seat, though he would re-join some way down the field and had to fight his way through again. He was right on the tail of the leader when he had to retire just a few laps from the end.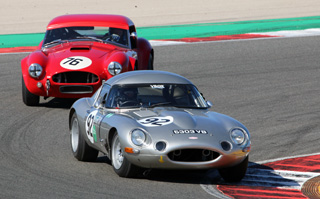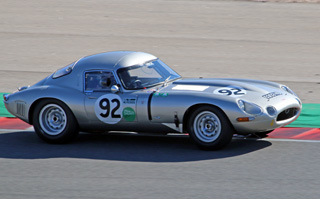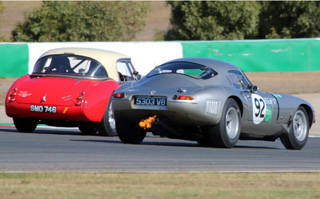 The Healeys' also saw a mixed race. Alex Bell and co-driver Richard Parsons qualified 6th in class in the ex-works Healey 767 KNX. Portimao was the first time Richard had driven the Big Healey, the smile on his face afterwards suggested he'd enjoyed himself. Bell and Parsons finished 4th in class. Tony Worthington and co-driver Simon Drinkall started 5th in class in TSU 680. Their partnership continues to develop with both drivers producing some strong performances, they would also finish 5th in class.
Meanwhile the ex works/John Gott car, SMO 746 driven by owner Martyn Corfield and co-driver Jeremy Welch qualified 2nd in class, to the Morgan SLR and was going well in the race until Corfield had a collision with a Porsche 911 which brought proceedings to an end with 40 minutes to go.
Iberian Historic Endurance
A varied grid of American V8's, Porsches' and various Lotus' lined up for two 50 minute races over the weekend.
The Ford Falcon of Julian Thomas and co-driver Calum Lockie qualified 26th and finished 14th in race 1. In race 2 they would start 14th and finish 11th.
Overall it's been a great debut season for the Falcon, especially as the car is new to both drivers and team.